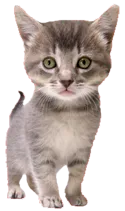 Your pet is more than an animal, he or she is a part of the family. Keep your companion healthy and happy for a lifetime with vet services and dental care from Alpine Animal Hospital in Coeur d'Alene, Idaho. Complete Care for Your Companion Animals require annual vet services to not only keep them healthy, but to also extend their lives. At our animal hospital, we offer complete medical care, including preventive treatments, wellness exams, vaccines, and flea and tick care for canines, felines, or other small animals.
Testing for Allergies
It's not uncommon for people to suffer from allergies, and the same goes for your pets. Prevent your pooch or kitty from suffering and bring them to us for the allergy testing. After drawing their blood, we test for airborne allergies. Should the tests come back positive, our vets develop a custom treatment and injection monitoring plan for your pet's condition.
Premium & Prescription
Maintaining a healthy weight is just as important as vet services. For your peace of mind, our animal hospital offers a variety of premium pet foods by Science Diet ™ and Royal Canin ™, including prescriptions for diabetes, intestinal conditions, allergy control, weight loss, and kidney issues to keep your pet's weight at an optimal level.
Caring for Your Pet's Oral Health
Our vet services don't stop with medical care. At Alpine Animal Hospital, we stress the importance of regular preventive dental care to keep your pet's teeth and gums healthy. Every February is dental health month - don't forget to ask about our specials.
Animal Boarding
Next time you need to go on an extended business trip or family vacation, find peace of mind knowing Alpine Animal Hospital offers boarding services just for your dog or cat. Our team has the experience to handle any special medical and feeding needs, so you can enjoy a worry-free trip.
---
We're pleased to offer the following services at Alpine Animal Hospital:
Emergency & Urgent Care

We have a veterinarian and personnel on duty six days a week who are trained and equipped to handle any urgent care your pet has. Usually an emergency team consists of at least one veterinarian and several technicians working together to save a pet's life. Emergencies can be things such as accidental ingestion of rat poison, hit by car, and chocolate ingestion. If you ever feel that your pet needs emergency treatment do not hesitate to call or come in immediately.
We are also available for urgent care when the condition is not life-threatening. If you feel your pet needs to be seen before you are able to get an appointment, our veterinarians will work to "squeeze" you in between scheduled appointments. When you arrive, our receptionists will be able to give you an estimate on how long you may have to wait in order to be seen.
Our receptionists and team will attempt to accommodate all requests to the best of our ability. Weekdays, emergencies are accepted anytime our clinic is open. If you feel you have an emergency with your pet, please call us or come in immediately. If possible it is best to call before coming in so that a staff member can advise you on your particular emergency. On Saturday's you may be refereed to the emergency clinic as our Saturday staff is smaller.
Because a large number of veterinarians practice at Alpine Animal Hospital, we can care for many types of pets:
Dogs
Cats
Small Farm Animals
*Select veterinarians only. Call us for more information.
Alpine Animal Hospital offers discounted services to senior citizens and local area rescue groups. Pre-approval is required to qualify for the rescue group discounts, please call us for more information.